DALLAS, TX PRESSURE WASHING EXPERTS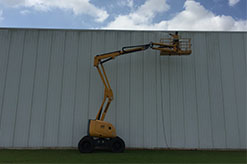 Soiled building exteriors get rejuvenated and restored with our commercial building pressure washing service. Avoid expensive repairs!
Learn More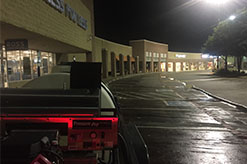 Neglected sidewalks and entrances get renewed with our retail strip pressure washing service. Spills, stains and bubble gum are no match for us!
Learn More
Neglected concrete surfaces are no match for our experienced pressure washing technicians and professional grade equipment.
Learn More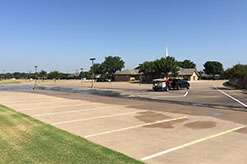 Our high flow commercial pressure washing units are ready to take on parking lots of any size and condition. Got a parking lot washing need?
Learn More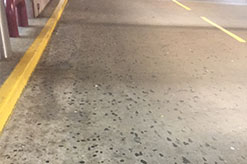 Extreme bubble gum buildup is no match for our hot water units. We can remove those unwanted "black tar balls" from your surfaces efficiently.
Learn More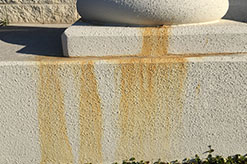 You do not have to live with rust stains around your business or home anymore. Our rust stain removal service is effective and affordable.
Learn More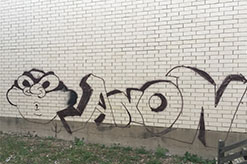 Graffiti is an eyesore and no matter how or why it got there, we have a professional removal solution for most surfaces that will avoid costly repairs.
Learn More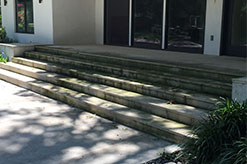 Our knowledge of chemicals and our ability to soft wash delicate surfaces, allows us to clean surfaces effectively without causing harm to the surface.
Learn More
Dallas's Premier Pressure Washing Company
We are experienced in pressure washing all types of surfaces found on and around businesses, apartment complexes and homes throughout the Dallas-Fort Worth Metroplex. We pride ourselves in being able to handle all types of pressure washing projects ranging from a simple retail storefront to a 100,000 sq ft parking lot. If you are in need of pressure washing service and desire professional results, look no further. We are a locally owned, owner-operator company. Ready to get started?
Call Us Today
or
Click here
for a fast, no hassle, no pressure cleaning quote.
Why Choose Us For Your Pressure Washing Needs?
Here at 214 Pressure Washing we save our customers time and frustration with our pressure washing services. Our customers do not have to worry about anything when they select us for their cleaning projects. We have put in the time and effort to make sure we are safe, efficient and thorough with our services. Remember that when you choose us you are getting a professional, dependable and insured pressure washing company that is committed to producing the desired results for our customers.
Commercial Pressure Washing Experts For The Entire Dallas-Fort Worth Metroplex
Commercial pressure washing jobs are our specialty. We offer a comprehensive list of pressure washing services to tackle any need that might arise.
If you have a commercial pressure washing need, we have a washing solution for you. Our equipment is professional grade and our results speak to that! One call cleans it all!
Residential Pressure Washing For The Entire Dallas-Fort Worth Metroplex
Although the majority of pressure washing we provide is on the commercial side, we still offer our pressure washing services to residential customers as well. We are pros at house washing, concrete cleaning, rust removal, organic growth removal and more. If you are searching for the cheapest estimate for your pressure washing needs, we are not the company for you. We have experienced technicians, professional grade equipment and we stay in high demand for pressure washing service. We cannot compete and do not want to compete with individuals that use homeowner grade pressure washers that are bought at local home improvement stores for a few hundred dollars. 214 pressure washing does not consider many pressure washing service providers in the DFW Metroplex as competitors. The knowledge, experience, professionalism and commercial grade equipment we have puts our company at the top of the pressure washing industry. Our services are affordable but are not the lowest around town. Give us a call to discuss your residential pressure washing needs.
Property Managers We Want You Business
Are you a property manager looking for a company to take care of your pressure washing needs? Look no further, we are the pressure washing company for you that offers one time cleans, bi-weekly, monthly, quarterly and semi-annually cleaning packages that are built around your budget and needs. Do not go another day with bubble gum covered sidewalks and years of surface neglect! Contact Us Today to get your properties back on track!
Quality Isn't Expensive, It's Priceless
214 Pressure Washing is a professional and experienced pressure washing company with commercial grade equipment. Our pressure washing units cost over $12,000 each for just the equipment. We do not offer pressure washing as a side service like many of our competitors. Pressure washing is all we do and we do it well! We have experienced technicians, professional grade equipment and belong to the pressure washing industry's top associations. Everything about us is professional and our results are industry leading. If all you care about is getting the job completed for the cheapest amount possible, we are not the company for you. We believe in the saying "Quality isn't expensive, it's priceless"!