Do you have stains all over your surfaces from surrounding pecan trees, acorn trees, or sweet gum trees? Tannin staining is a term for stains of red cedar, cypress, and redwood, among other trees, caused by a combination of moisture and inadequate sealing.
Pressure washing alone will not remove these stains.
At 214 Pressure Washing, we have the proper blend of solutions to remove these unwanted stains from your surfaces. Our focus is on you and providing you with the best customer service and quality work in the Dallas and Fort Worth area.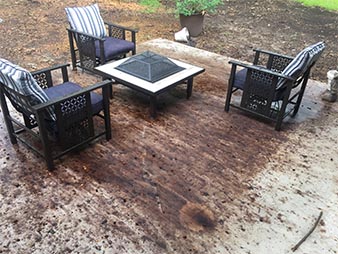 Why Choose Us?
Professionalism and Experience
When you contact 214 Pressure Washing for tannin stain removal, you are hiring a competent, reputable, and insured company that is dedicated to providing our customers with the highest quality results possible.
Our tannin stain removal team has extensive knowledge in this sector. You can put your trust in us without fear of failure. In addition, we make sure we clean your surfaces without damaging them.
After a cleaning service, no one wants to think about repairs.
Affordability
Our fees will not force you to break into a bank. We charge reasonable fees based on the extent of the damage.
Our pricing excites customers rather than discourages them.
Service Speed
214 Pressure Washing team responds quickly to your request for tannin stain removal in Dallas-Fort Worth Metroplex and gets to work right away. We understand that when you need your surfaces cleaned, you want a team of professionals who can do the job promptly so you can get back to work.
Conclusion
Are you a Dallas or Fort Worth resident? We have a solution for you whether you require commercial or residential tannin stain removal. We take pride in exceeding our client's expectations.
Contact us today and get rid of that tannin stain.