Your parking lot is the first thing customers see and experience, and it serves as a key part of standard operating procedures. Maintaining your parking lot and keeping it clean is essential and necessary. Here's why parking lot pressure washing is essential.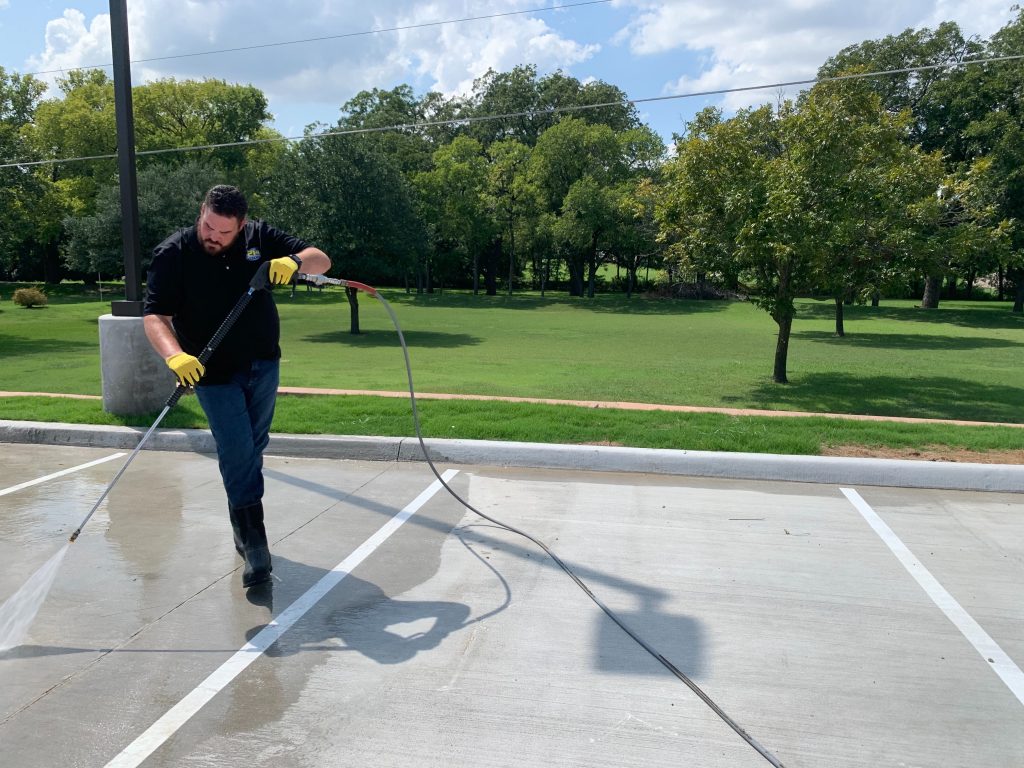 Cleanliness: Inside & Out
With all of the automotive and other traffic, parking lots get dirty quickly. They only get dirtier over time, until they begin to look slimy, dingy, discolored, and neglected. Dirty parking lots may leave a bad impression on customers, and that's bad for business.
For those customers who may never think twice about the cleanliness of a parking-lot, they'll still notice if the filth and gunk from the parking-lot is being tracked into the store. The entry of your business sets the tone for the shopping or service experience, and tracking causes dirty floors. Plus, tracking can lead to bacteria and mold growth, which is very bad for business!
Damage Prevention: Short & Long-Term
As dirt, oil, animal droppings, debris, and grime accumulate on parking lots, the residue gets into the pores and cracks of the asphalt or concrete. The build-up in the cracks then begins to expand the seals, joints, and the structure of the parking lot, which can cause significant, expensive damage. This starts to happen within just a few months of parking lot neglect.
In the long-term, if parking lots are not maintained with pressure-washing, seeds will turn into roots that turn into sprouting weeds through the concrete or asphalt. While this is an impressive feat of nature, it doesn't look good, and it can cause serious, irrevocable damage to the integrity and structure of your parking lot.
Safety: Hazards & Liability
The cracks that fill with dirt and grime can turn your parking lot into a slip and slide. Parking lots are designed to be rough, so tires and feet safely grip the surface, but gunk makes the surface smoother and slicker. It's a hazard for customers to walk on slick parking lots, and it's hazardous to drive a vehicle on unmaintained parking lot surfaces, especially if it's snowing or raining.
If an accident occurs, a company must be able to prove that they performed proper and regular maintenance, which becomes the record of protection from liability claims of neglect. Routine parking lot pressure washing is safer for you and your customers.
Contact us today to schedule your parking lot pressure washing with 214 Pressure Washing.