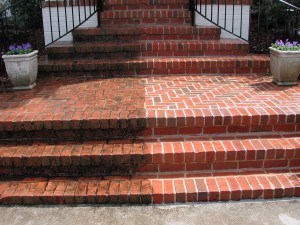 Power washing is a great way to improve your curb appeal before selling your house. Curb appeal is how your house looks when someone drives by. Power washing your house before you sell it can quickly improve your curb appeal, and better curb appeal can mean a quicker sale and potentially more money.
Power washing can help increase your chances of having someone fall in love with your house upon seeing it. It can remove layers and years of dirt and grime from stone and cement and make the house look instantly cleaner. This means the chalk stains from when the kids were younger and any other marks on concrete can be done away with if you power wash the area. Power washing the porch will clear the area of dirt and debris.
Hiring someone to pressure clean your house will increase the curb appeal. It will make your home seem instantly cleaner, brighter, and more attractive. It can increase your chances of having a buyer fall in love with your house – which is what every home seller wants. You can be assured that 214 Pressure Washing is here to help you with your pressure washing needs.
Call us today for a quote on pressure watching for your home.