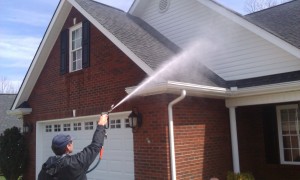 Keeping our homes looking their best is at the top of most of our to-do lists.  Keeping the inside clean is a no-brainer.  But what about the outside? Are you curious about the benefits of power washing your home? You may have questions about whether or not this is something you should look into.  Check out these benefits to pressure washing your home!
1. Pressure washing can greatly improve the appearance of your home.  Whether you are interested in selling your home or just maintaining it, we all want our home to look desirable.
2. Power washing can also prevent or delay major projects such as painting, installing siding or restaining or resealing your deck.  If done regularly, pressure washing can extend the life of many outdoor features of your home.  It is also cheaper to hire someone to pressure wash than it is to put new siding on your home.  Pressure washing can extend the life of your siding as well as the surface of your driveway or the finish on your deck.
3. Pressure washing is also desirable because it is  faster than hand washing the majority of the time.
If would like an estimate for our pressure washing services, call 214 Pressure Washing today!