With the competitiveness of most businesses, they never consider how a clean storefront  and business curb appeal can also give their business a winning edge. It's essential that your business is represented by having clean space for your customers. You should consider the outside of your establishment and the sidewalk as a part of your business. An experienced pressure washing professional will come in with the right equipment at a time that doesn't have to disrupt the nature of your business. In fact, it's impossible for your employees to keep your business clean without the proper tools and cleaning supplies for a major outside cleaning job.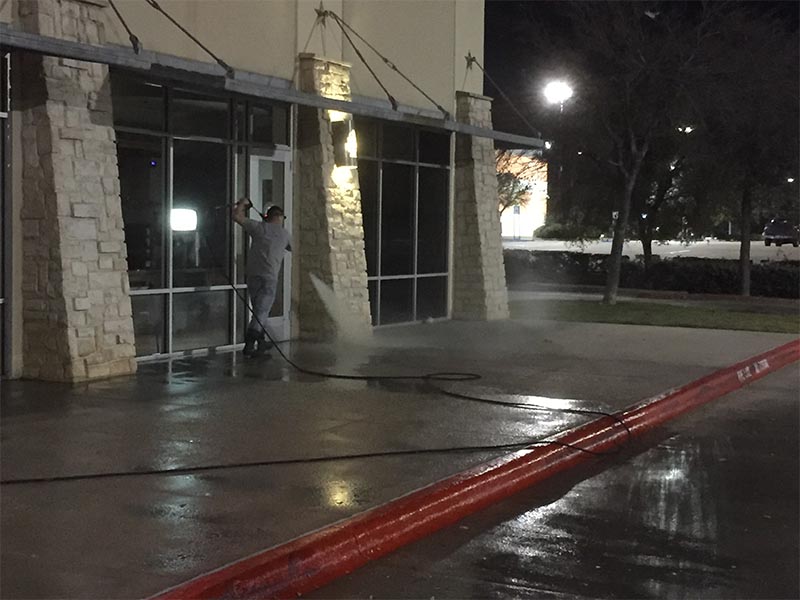 Are you looking for ways to aesthetically enhance your business? Power washing can give your business an immediate face lift for a fraction of the cost of hiring a painting team, getting new bricks, or paying for new vinyl siding. 214 Pressure Washing can take years of dirt and debris off of your commercial building or clean up your sidewalk. Dirt can create a hazard and be a breeding ground for bacteria. High power pressure washing can remove debris, mold, and decay from your building. Our team of professionals can completely clean your business right the first time.
Our professionals are dedicated to making your business look good. We specialize in courteous and highly trained professionals that are focused on meeting customer demand. You focus on exceptional customer service and let us focus on giving your commercial property a wonderful place for your customers to do business because of your cleanliness. We also specialize in scheduled power washing that will guarantee your business stays spotless. Pressure washing your commercial property can also increase it's value along with neighboring businesses. If you're in the Dallas or Fort Worth area, you're invited to contact us for a free no obligation consultation. 214 Pressure Washing is ready to blast the dirt from your business and give you a completely clean appearance and enhance your business curb appeal at affordable rates.