A swimming pool deck should stay clean to protect your family, guests, and the pool. Only a careful pressure wash using the right power and non-toxic cleansers will restore your deck and keep it looking fresh and new.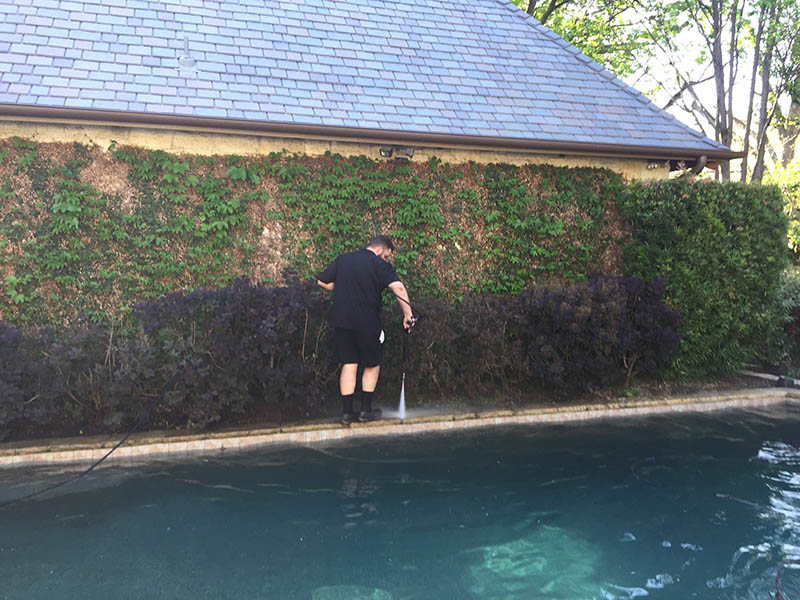 Dirt and Grime Build-up
Dirt from surrounding landscaping, dust, and debris can soil any pool deck. In addition, the debris can blow into the swimming pool or spa. Your shoes and even bare feet track in more dirt and grime. You can rinse off the deck with a garden hose, but it will not remove all the dirt that has seeped into cement or other decking materials.
There are several types of pool decks. This includes flagstone, brick, ceramic glazed tile, travertine, composite pavers, aggregate, granite, and decorative concrete that is colored, stamped or stenciled for special effects. Each material requires a special type of pressure wash to protect the surface. This includes protection against cracking grout or flaking pieces of brick. The right pressure cleans the deck without stripping paint, sealants or stains.
Pool decks usually have a non-slip surface to keep people safe in the wet environment. Rock salt is often used with concrete to provide a speckled look while it offers good traction. A soft pressure wash will maintain the rough, pitted look while cleaning out the grime. Aggregate that includes rough particles added to concrete is another one of the best non-slip deck materials. The colorful aggregate may be combined with smoother concrete for contrast. Both surfaces need special pressures for a thorough cleaning.
A pressure wash directs all dirt and debris away from the pool. The soft wash and low-pressure rinse will restore the pool deck area.
Contact us at 214 Pressure Washing in the Dallas-Fort Worth Metroplex area for a quote and information on our special pressure washing techniques for swimming pool and spa decks. We also pressure wash pool decks in apartment communities and hotels.