The COVID-19 pandemic has shown us that a commitment to cleaning your commercial space can be lifesaving. Researchers are urgently studying the ways in which this novel Coronavirus spreads. What is known is that droplets from the sneezes and coughs of an infected person can land on surfaces and survive for some period of time. An uninfected person can touch a contaminated surface and then touch their eyes, nose or mouth and become sick with the virus. Of real concern, research is showing that asymptomatic persons carrying COVID-19 can spread the virus. This can happen via a simple cough, the touching of one's mouth or eyes or through benign spittle released when one is talking. In each case, germs can be transferred from the asymptomatic individual to a common surface. As business owners, we must ensure that the surfaces at our places of business are regularly cleaned, sanitized and, when necessary, disinfected, in order to protect our clients and our employees. Surface cleaning must include the commonly touched outside areas and exterior features of our facilities. When done properly, exterior surface power washing is an effective way to mitigate the spread of dangerous viruses like COVID-19.
CDC Provides Guidance for Cleaning Commercial Facilities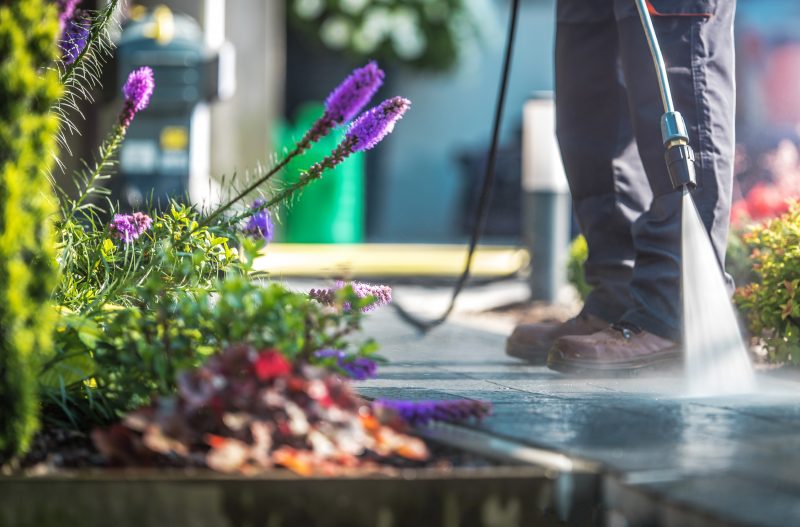 Did you know there are distinctions among cleaning, sanitizing and disinfecting? This is spelled out on the CDC website. Cleaning removes dirt, germs and other impurities from a surface. Disinfecting kills germs on surfaces. Sanitizing lowers the number of germs on a surface to a safe level, as judged by public health standards or requirements. Sanitation takes place through the cleaning or disinfecting of surfaces or objects to lower the risk of spreading infection.
Per the CDC, surfaces should be regularly cleared of dirt and debris using soap and water, or another detergent. Power washing with effective detergent can sanitize exterior surfaces. When disinfection is warranted, once the surface is clean, it should be disinfected using an EPA-registered disinfectant. Bleach is one approved efficacious disinfectant that may be used on surfaces that can withstand the substance, but there are other viable disinfectants that can be used if bleach will be too damaging.
If someone sick with COVID-19 has been in your facility, the CDC recommends closing off all areas used by the sick individual, and opening up exterior doors and windows to increase airflow. Wait 24 hours if possible, then clean and disinfect all areas used by the sick person This must include exterior surfaces. If more than seven days have passed since the sick person was present, additional cleaning and disinfection is not required; you should simply proceed with routine cleaning and disinfection.
What and Where You Should be Cleaning
As discussed, germs can be spread when someone coughs or otherwise disseminates bodily fluids from their eyes, nose or mouth. Certainly, this indicates the regular cleaning of common touch areas inside your establishment – point-of-sale counters, tables, chairs, bathroom fixtures, store shelves, windows and door handles.. But, many retail establishments also have a lot of exterior fixtures and structures that are high-touch surfaces. These include:
Doors & entranceways
Handrails
Walls
Shopping carts
Drive-throughs
Playscapes
Benches
Monuments and statues
Flat surfaces
Hard surfaces
Power Washing to Combat COVID-19
Power washing with soap is effective in reducing the spread of COVID-19, lowering the risk of infection by sanitizing surfaces. At 214 Pressure Washing, we practice what we preach, engaging in routine power washing on all of our exterior surfaces. We have a team of trained professionals skilled at analyzing exterior surface risk. They are able to provide business owners with an effective plan for exterior surface cleaning and sanitizing. Our power washing is conducted in line with the recommendations of the CDC. We utilize high-flow pressure washers, heated water, chemicals and surface cleaners to achieve the desired results for our customers. We offer customized pressure washing packages to meet any demand and budget.
We're all in this together. Today more than ever, the regular cleaning and sanitizing of exterior surfaces is a prudent business practice, and pressure washing is an effective means to sanitizing exterior surfaces. We're here to help you prepare your business for the return of employees and clients. Let's each do our part to mitigate so that we can get back to the business of our business.