You may be worried about keeping the inside of your house clean, but the exterior needs care too. However, you can't just whip out the vacuum cleaner to take care of the exterior, instead the most efficient option is to have it power washed. By using a pressure washing service to wash these four areas of you house's exterior, it'll leave the place sparkling.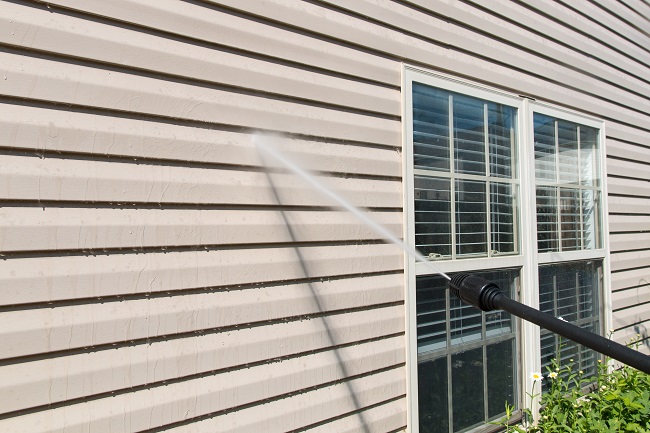 The Siding
Unfortunately, all those warm summer breezes and blustery winter days blow up dirt and that dirt in the air lands firmly on the side of your house. Combine that with mold and algae that builds up after rain storms, and the siding of your house can look extra grimy after awhile. However, put that scrub brush away, power washing is the way to go. Most siding has natural grooves in it that can be difficult to clean, but using the right water pressure and it can make cleaning the siding of your home go from a multi-day affair to just a task that is done in a few hours.
The Roof
We have all seen those sort of roofs that look dubiously streaked with black. This appearance is from mold and algae that will gradually grow on the shingles over time. However, while power washing can help, usually a power washing service will choose to use a technique called soft washing to best clean roofs. This doesn't damage the roof, but rather uses a softer spray mixed lightly with bleach or other cleaners to remove the stains on your roof. The results are so effective that many realtors actually recommend a soft wash for your roof before you place the house on the market. It can really do wonders for that curb appeal.
The Driveway
Over time and consistent use, your driveway will manifest small cracks. Unfortunately, when dirt gets into those cracks, it can cause them to become worse. Then, of course, if weeds start to grow because of the dirt in those cracks, the cracks continue to grow too. Furthermore, concrete is a porous material, which means no matter how dirt-free you try to keep it, it will get darker and less pleasant. However, power washing is excellent at removing the dirt from those pores without damaging the concrete and without hours of scrubbing.
The Patio
If you have a concrete patio, then this is very much the same as your driveway. Concrete pores will get full of dirt over time and need to be flushed out. However, even if you have a wooden deck, it still needs regular cleaning and care. If you want to restain, power washing can strip away dirt and old stain so you can get to painting. However, by using a lighter pressure, the stain can stay on and the dirt can go.
If any of these areas of your house need cleaned and pressure washing is the right choice, contact us today to see what we can do for you.